December 11th, 2009
Since we are environment-conscious out here in the Northwest, my mom decided to take me on an outing to learn about the local foliage and animal life.  We went to something called "wetlands", although they were more like the frozen lands in my opinion. We had to run some errands first, and I didn't know where we were going so I started shaking…like, a lot. This of course freaked my human out, but she decided not to worry about it and of course I stopped being all weird. On our way to the car, we saw that the fountain in front of our building was frozen and that it had this amazing ice pattern in it: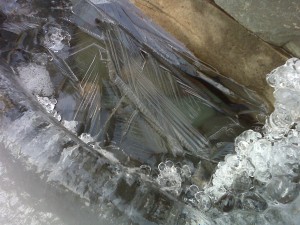 When we got to the park, everything was frozen, and I got to spend forever smelling the icy leaves!!!  You'd think I'd never seen a dang leaf before I was so excited.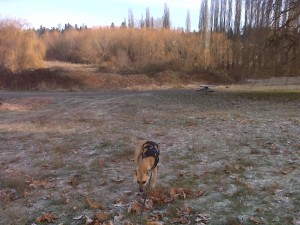 We walked up and down the boardwalks, but when we would get to the final deck, they had this funny little grate covering the ground!  Boy oh boy, did I HATE that thing!  It hurted my feets.  My mom tried lifting me by my handy little handle so so much pressure wasn't on my feet, but by that time I had already figured out that ground was evil and refused to go any further.  This was our compromise: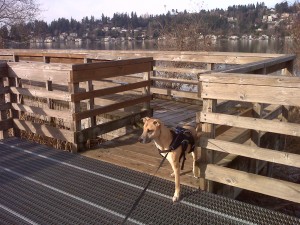 We had a really fun time, and I cried "hello!" at my fellow dogs who we saw walking around.  What lucky puppies we were to get to go there!  Here I am posing for my mommy.  Human says I am very handsome 🙂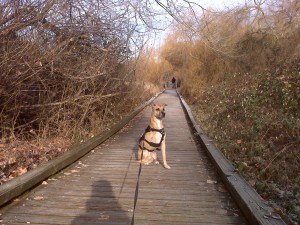 I learned a lot about how nature smells, about the different trees and bushes that are perfect for me to play under, and all about the birds that love living in the foliage and especially love getting chased out by a hyper envirodog (hey!  I was just excited about learning, OK?!?).  I can't wait until our next lesson!!!!!
test Filed under
Uncategorized
|
Comment (1)