December 28th, 2009
So I had a pretty good Christmas! Usually mommy leaves me for a week and I get to stay at a kennel or with my daddy in MI, but this was our first Christmas EVER that I got to stay with blonde one!!! Grammy got the Christmas toys out, so whenever anyone comes home, I greet them at the door with Santa in my mouth: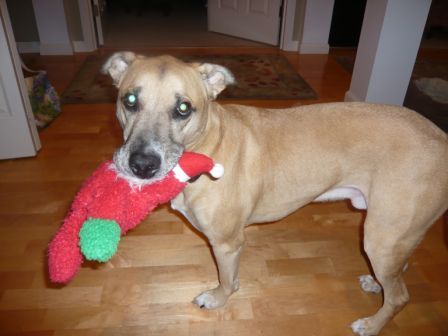 On Christmas Eve, Grandma Pam gave all the humans matching pajamas.  Boy did they look silly!  It made me glad that I am a dog and did not have to partake in this display of Christmas cheer.  Here is mommy (center) along with Grandma Pam and Grandpa Jim in front of the tree that these crazy people dragged into the house and decorated with weird animals and snowmen and stuff.  You can also see my aunt Gracie trying to get into the shot.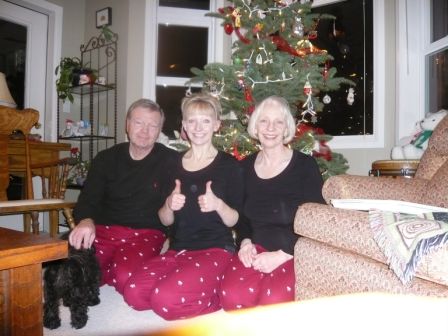 The next day, we all went out to this HUGE dog park where I was able to run around without my leash on.  There were tons and tons of other doggies there and I had an absolute blast just being a normal dog.  Grandma Pam made a rule that everyone had to wear their pajamas ALL DAY on Christmas, so of course this meant the dog park.  I can't believe I went out into public with these people.  Jim got Pam a video camera for Christmas, so here he is trying to figure out how to use it.  Gracie and I were trying to help.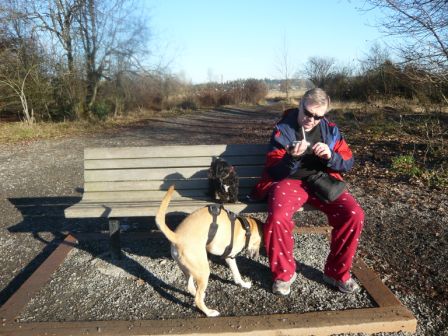 There were tons of bushes for me to play in, and lots of areas to go down into the water.  I'm not to the point yet where I'll jump in, but I sure enjoyed running along the shore!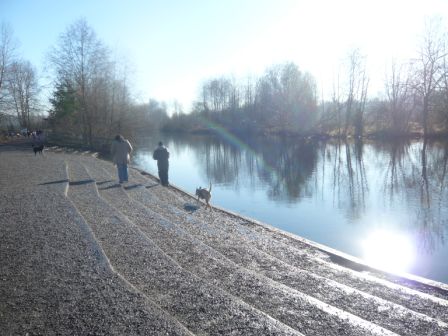 The park also had little bridges so we didn't have to step in muddy or watery areas, and I thought that was pretty nice of them to add those.  We all stopped by this one so Pam could take a picture.  The name of the bridge is hard to read, but it was called "Dog Leg Bridge".  Apparently this is funny or something.  Here I am with mommy: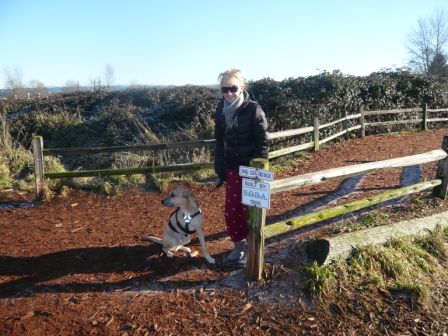 Gracie and I got marrow bones for Christmas and we both cleaned ours out completely!  It was my favorite Christmas I've ever had.  When Grandpa Jim figures out how to get video off the new camera, maybe I'll get mom to post some shots of me playing.  Hope everyone had a great holiday!!!
test Filed under
Uncategorized
|
Comments (11)