January 18th, 2010
Cemil started it, and we're adding to the cuteness. My mom has more pictures of me somewhere (probably in storage back in MI…totally lame, right?), but she stole these from RedHair mommy when we went to visit last May, a week before my diagnosis. She does not remember how old I am in these pictures, but she guesses about 5 or 6 months old. I still have my toys I came home to intact, so I must have been brand new to them 😛
Here I am on my blanket I stole from BlondeMommy being bothered while I was chewing on my birdhouse.  Next to me is the bear I used to like to hump.  You will notice in the lower right there is a light blue blanket.  This is the one the sisters picked me up at the shelter with and I snuggled in it the whole way home.  I still have it 🙂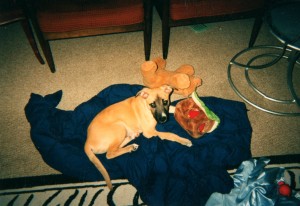 This is me with my first brother, Kitty.  Kitty was owned by a roommate of ours, and we got along pretty great together!  Please notice, I am the same size as Kitty.  I was much smaller then, than I am now (don't I look weird with 2 front legs?!?!?!?!)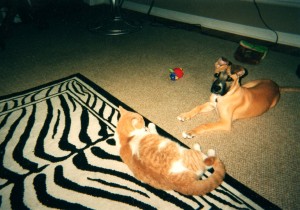 Here I am hanging out with Kitty in the living room.  Hmmmmm….maybe I am smaller than Kitty!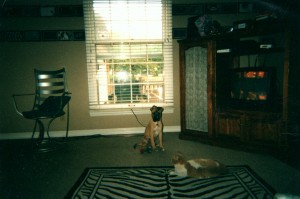 You can't see my face in this photo, but my mom likes it because it shows how I used to make my ears stick up.  Sometimes, I would stick both of them up so high that they would cross over eachother on top of my head!!  Also, I am laying on something pink.  It was evident that I loved pink things even from a very young age 🙂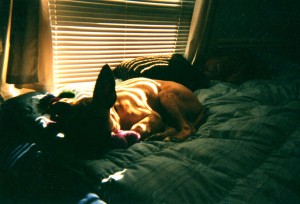 This is mommy's favorite picture of me, because it shows my adorable little puppy face, and how much I love snuggling (with hump bear again!) and chewing (I don't really like rawhide, but I LOOOOOOOVE the minty bones!  Still love 'em, in fact)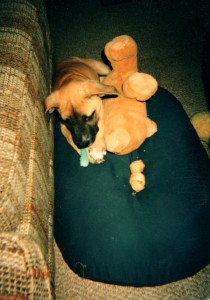 Here is a picture of my baby brother, Colby.  I tought him to do his ears like that.  His mom is a sheltie, and his dad is a german shepherd.  He's pretty adorable, but I haven't seen him in 3 months.  We miss him but he is having a super time in MI with daddy.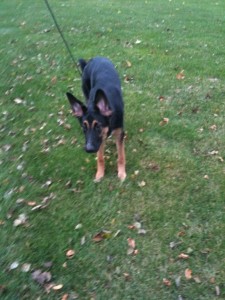 This is the doggie I live with now.  She belongs to Grandma Pam and Grandpa Jim.  She is a tiny havanese named Gracie.  She is 4, but she is only 6 pounds!  My mom took her into Seattle one day, and this is them on the bus!  Gracie gets to wear cute clothes, and I'm jealous because they don't make cute things in my size 🙁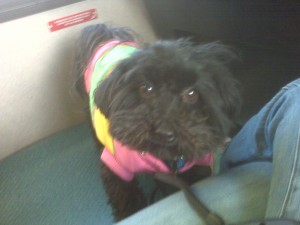 Thats it for now!  If Laura ever finds my other pictures, I'll make her share those with you, too.  Have a wonderful rest of your day, fellow tripawds and friends!
Captain Jack
Uncategorized
|
Comments (3)
January 3rd, 2010
I hear today is a pretty darn special day. Why? Because 7 months ago today, I was in surgery getting my bad leg taken away for good. I never did like that leg. But today is also EXTRA darn special, because exactly 1 year ago today, my mommy and daddy brought home my little brother, Stephen Colbert. I haven't seen him in 3 months since Mommy and I trekked out to WA, but daddy sends us picture updates. Here is one we got last week-ish.  We are unsure why, but it seems that Colby felt the need to empty his entire toy box.  Maybe he likes options??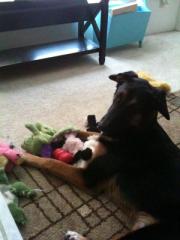 This is pretty funny, because the very next day, mommy took this one of me…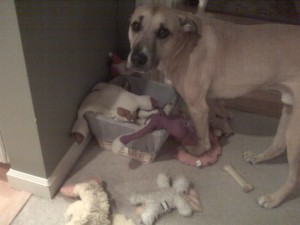 Is this a coincidence?  Telepathy?  We may never know…
Thanks for celebrating with me, and I wish you all the happiest of days!!!
Filed under
Uncategorized
|
Comments (14)