January 3rd, 2010
I hear today is a pretty darn special day. Why? Because 7 months ago today, I was in surgery getting my bad leg taken away for good. I never did like that leg. But today is also EXTRA darn special, because exactly 1 year ago today, my mommy and daddy brought home my little brother, Stephen Colbert. I haven't seen him in 3 months since Mommy and I trekked out to WA, but daddy sends us picture updates. Here is one we got last week-ish.  We are unsure why, but it seems that Colby felt the need to empty his entire toy box.  Maybe he likes options??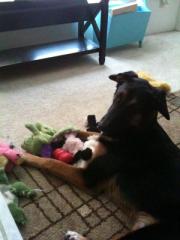 This is pretty funny, because the very next day, mommy took this one of me…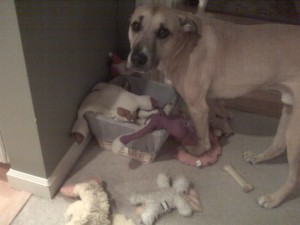 Is this a coincidence?  Telepathy?  We may never know…
Thanks for celebrating with me, and I wish you all the happiest of days!!!
test Filed under
Uncategorized
|
Comments (14)