June 17th, 2010
So, blondie has been too busy lately to supervise my computer time, so this post is coming a couple weeks late (thanks a lot, mom). On June 3, 2010, I celebrated my ONE YEAR AMPUVERSARY!!!!! It was so much fun. I forgot that I got a leg removed, so all the extra treats I got that day were just bonus. Mommy came home that day from school carrying two weird boxes with yellow "m" shaped things on top. She was saying something about them being called "happy meals" and I totally get why they are called that now!! Gracie and I got to split a meal (i got more, HA!) but we each got to eat out of our own box.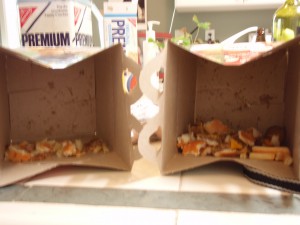 Mommy tried to get pictures of my enjoying my first burger, but this is all she could get out of me:

The best part?! My lunch came with its own toy! Seriously, when you finish your food, a toy magically appears! The one I got made noises when you pushed it. I sniffed it because I thought maybe it was a weird looking french fry, but then I got bored with it so my mom got rid of it: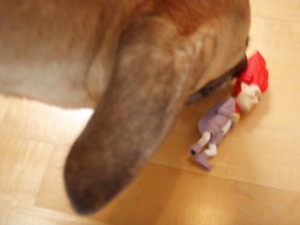 After lunch the three of us went to the park. The grass is getting really tall, and I was having sooo much fun eating it (my mom gets really annoyed with me when I do that, but its totally worth it!). Blonde One was trying to get me to post for a picture, but I was like, whatever mom, and kept hopping through the grass. Do you think I could pass for a deer in this picture? I was pretending to be one: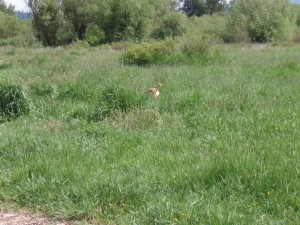 I kind of got a little muddy at the park (ok, a LOT muddy), so even though I hate hate HATE baths, I got one…on my ampuversary. That girl has no heart. She even made me stay in the tub while she snapped my photo. I know I'm cute, but please…just get me out of here: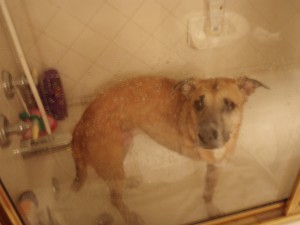 She totally made it up to me though, because after dinner, I got an entire carton of ice cream. Like, literally the whole thing. Wait…you mean ice cream comes in bigger containers than this?!?!? I WAS TOTALLY TAKEN ADVANTAGE OF!!!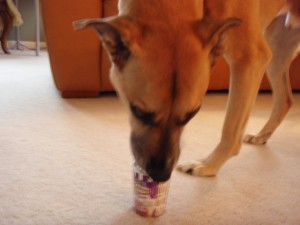 I know, I know, not a lot of pictures of me posing, but it was just such an exciting day that I couldn't sit still!!! Can you blame me?!?!? And really…you only get to celebrate your one year ampuversary once 😉
test Filed under
Uncategorized
|
Comments (10)